The women's Columbia Newton Ridge Plus Waterproof Amped boots have a stylish and fun design with countless color ways. Upon wearing them for a while, we discovered that these boots are remarkably comfortable straight out of the box. They quickly adapt to your feet and prove to be excellent companions for shorter hikes or for individuals who are new to hiking.
Furthermore, they come at an exceptional price point. However, owing to their predominantly leather composition and solid build, they lack the breathability that is particularly advantageous during extended and more demanding excursions. Overall, these proved to be comfortable and one of my top choices for hiking boots for women with flat feet.
If you need to find out just how to choose a hiking boot, make sure to check out that blog before buying. We also have a backpacking for beginners blog for more information before you hit the trail.
Quick Facts about the Columbia Women's Newton Ridge Plus Hiking Boots: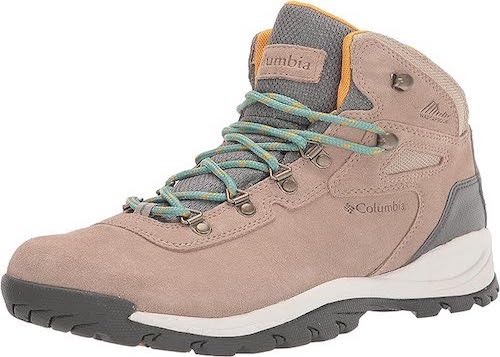 Price: USD $89
Weight: 1.75 lbs
Collar height: Ankle high
Color: 14 different color combinations
Amazon Rating: (4.7/5) 18,540 reviews
Columbia Rating: (4.7/5) 2,886 reviews
What we like:
The sole offers exceptional comfort, making it suitable for extended hikes, even for those with plantar fasciitis
Boasts an attractive and lightweight design
Provides commendable arch and ankle support
What we don't like:
The all leather construction hinders the breathability of the boot
The boot has short laces making it more difficult to tie at times
Traction on rugged trails is limited
Performance of the Columbia Newton Ridge Plus: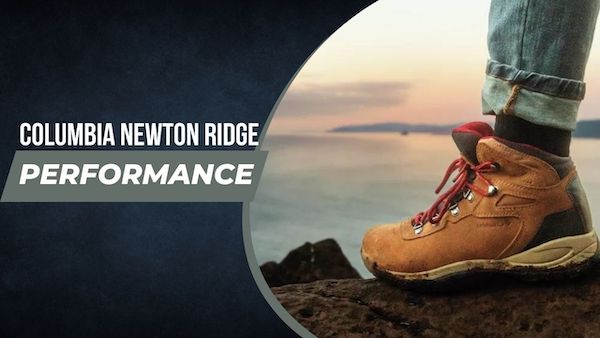 In this section we will look at the key performance indicators of the Women's Columbia Newton Ridge Plus including comfort, weight, traction, stability and support, waterproofing and build quality and durability.
1. Comfort of the Columbia Newton Ridge Plus:
The Columbia Newton Ridge truly excels in terms of comfort. The Newtons stand out as some of the most comfortable straight out of the box. Despite their appearance suggesting they might be rigid and challenging to break in due to the leather construction, our experience was quite the opposite.
Their break-in period is minimal, and they lack the rigidity often associated with predominantly leather boots. Initially, this contributes significantly to their comfort; however, during lengthier hikes, we noticed that the Newton Ridge falls short in providing the accustomed level of support and, consequently, comfort. While undeniably comfortable, they are not ideally suited for demanding or prolonged treks.
2. Women's Columbia Newton Ridge Plus Weight:
With a weight of 1.75 pounds, the Columbia Newton Ridge positions itself as a balanced contender within their weight class. Notably, its lightweight nature adds to its appeal, making it an ideal option for hiking enthusiasts seeking a boot that strikes a blend between weight and performance.
3. Boot Traction of the Columbia Newton Ridge Plus:
The Omni-Grip rubber soles equipped on the Columbia Newton Ridges provide a level of traction that proves effective on trails with moderate rockiness. However, it's important to note that their performance falls somewhat short when tackling more technically demanding hikes or engaging in off-trail scrambling.
This limitation is within the expected range considering that the boots are primarily tailored for shorter and moderately challenging hikes. As such, it's advisable to anticipate a degree of slipperiness, particularly when traversing granite slabs and navigating talus-laden terrain. While the boots might not excel in extreme traction scenarios, they do align well with their intended purpose of providing stability and grip on less formidable trails.
4. Columbia Newton Ridge Plus' Stability and Support: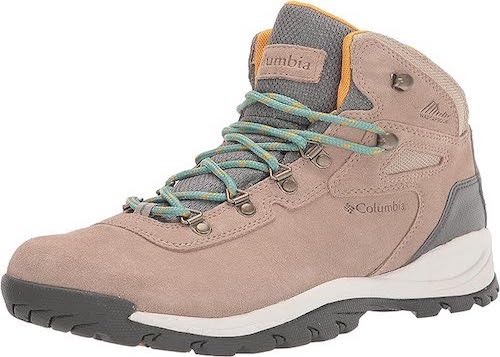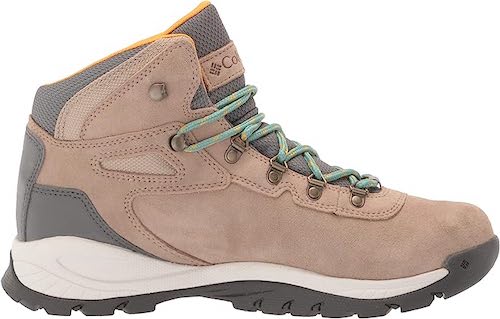 When it comes to stability and support, the Women's Newton Ridge offer decent but not an outstanding level of support. We noticed that the sole rigidity had a tendency to lose their shape rather than holding firm. This suggests a certain degree of flexibility within the sole, which could potentially translate to a diminished level of overall support.
Notably, this flexibility is most pronounced in the forefoot section, contributing to a reasonable level of flex that might be appreciated by those seeking a balance between support and natural foot movement. While they may not excel in the terms of support, the boots do seem to strike a chord with those who value a more adaptable boot without sacrificing all support.
5. Columbia Newton's Waterproofing:
When it comes to waterproofing, the Newton Ridge boots turned out to be rather remarkable. A distinctive feature contributing to their effectiveness lies in the boots' construction, characterized by an upper that is primarily crafted from a single continuous piece of leather. The design choice results in the boots having a scarcity of seams, which can often be potential points of water seepage. Columbia proudly asserts the waterproof nature of these boots, with the added assurance of seam-sealing. Moreover, our observations align with these claims, as the boots demonstrated notable resilience to water exposure. We fully submerged the boots and only saw minimal seepage from the tongue region. It's important to consider that such a circumstance is more extreme than the average damp conditions encountered by most hikers. Therefore, for the common scenarios of intermittent puddles and rainy afternoons, the Newton Ridge holds its own.
6. Build Quality and Durability:
Over the course of our assessment, the Columbia Newton Ridge exhibited minimal indications of wear and deterioration. Notably, the durability of its leather uppers stood out prominently, with no instances of seam failure.
Constructed using robust leather uppers, the Newton utilizes rubber and mesh to enhance durability and facilitate ventilation. Additionally, it incorporates a completely waterproof membrane to ensure your comfort during wet spring hikes. With its ankle-height design, the Newton Ridge offers the necessary support for your lower body while carrying a daypack or weekend backpack. Its resilient midsoles provide cushioning whether you're traversing loamy or rocky trails.
It is important, however, to consider the context of the Newton Ridge's relatively lower price point compared to the majority of models under review; regrettably, this cost-saving aspect could potentially entail a faster rate of wear and tear. The construction, while sturdy, may not be engineered to endure the same extent of prolonged usage as the heavyweight, full-leather counterparts. Nevertheless, it is worth noting that the Newton Ridge serves as an excellent choice for those new to hiking or individuals intending to employ these boots for intermittent or moderate outings. In such scenarios, the Newton Ridge's performance admirably meets the demands, aligning itself as a fitting and practical option.
Fit and Sizing of the Women's Newton Ridge Plus: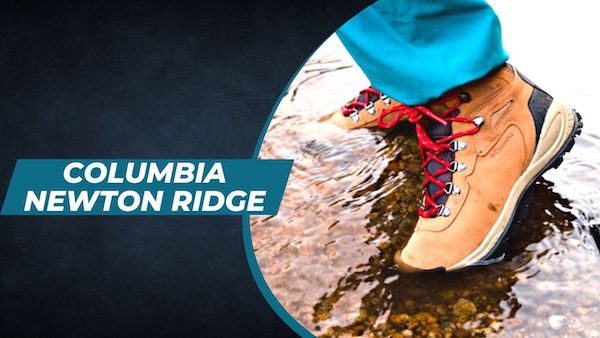 Opting for my standard size 6, the Women's Columbia Newton Ridge proved to be a spot-on choice. Inline with my previous encounters with Columbia boots, the fit of the Columbia Newton Ridge Plus was outstanding. The sizing was right on the mark, and the toe area offered generous space for lengthy days on the trail without sacrificing a secure feel.
The well shaped insole, complete with improved arch support, effectively anchored my foot in place with even greater efficacy. The snug heel enclosure was particularly valuable, catering well to my flat foot structure.
The Competition:
If you're open to investing a bit more for a boot that delivers superior performance and extended durability, consider exploring options like the Keen Women's Voyageur or the Merrell Women's Moab 3 Mid. These alternatives provide enhanced traction along with heightened comfort and support.
Overall the Women's Columbia Newton Ridge Plus hiking boot performed well and was a stylish boot on the trails. I never had any comfort issues along the sole, or issues of rolling ankles. Additionally, it did great for my flatter feet and arches while walking on slightly rugged trails. The Newton for women is a great starter boot at a great price point. However, if you want something more sturdy and better for rugged trails consider getting the Merrell Women's Moab 2 Mid instead.
Columbia Women's Newton Ridge Plus Hiking Boots Review: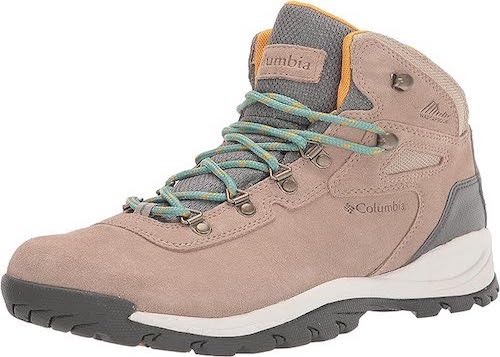 Price: USD $89
Weight: 1.75 lbs
Collar height: Ankle high
Color: 14 different color combinations
Amazon Rating: (4.7/5) 18,540 reviews
Columbia Rating: (4.7/5) 2,886 reviews