The Women's Merrell Moab 3 stands as a true embodiment of classic hiking boots and remains a top choice among the Merrell line. We put the waterproof mid-height model to the test and it delivered. With an excellent fit and impressive comfort level suitable for day hikes and light backpacking, this iteration is a budget friendly boot for more advanced hikers.
It upholds a proven design that comes at an exceptional price point. Finally, it is one of our top rated hiking boots for women with flat feet, as it provides exceptional comfort and room or wider feet.
If you need to find out just how to choose a hiking boot, make sure to check out that blog before buying. We also have a backpacking for beginners blog for more information before you hit the trail.
Quick Facts about the Merrell Women's Moab 3 Mid Waterproof Hiking Boot: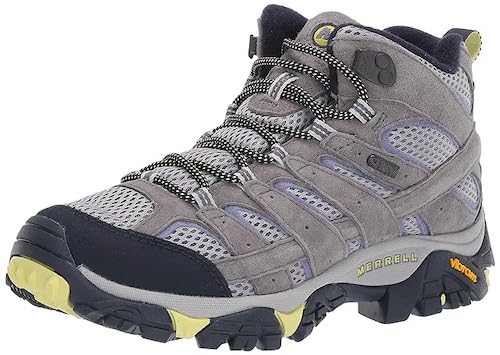 Price: USD $145
Weight: 1.69 pounds (size 7)
Collar height: Over-the-ankle
Color: Brindle, Granite, Bungee Cord, Navy Morning, boulder/blush
Amazon Rating: (4.6/5) 569 reviews
REI Rating: (4.6/5) 301 reviews
What we like:
Moab 3 Mid presents an exceptional value, given its established and solid construction
Immediate comfort upon wearing, owing to ample padding, favorable flexibility, and a secure lacing mechanism
Incorporates quality materials, some of which are recycled, substantial safeguarding for both the toe and heel areas, and a reasonably durable structure
Accommodating fit that prevents toe impact, offers ample space in the toe box, and includes a contoured insole to prevent heel movement
What we don't like:
The reduced height and relatively flexible forefoot construction compromise overall stability
While the Moab provides good traction on well-maintained paths, its performance in muddy conditions or on steep rocky surfaces is not exceptional.
The boot falls on the heavier side and exhibits a slightly more outdated feel compared to competitors influenced by running shoe designs
The substantial build and budget-oriented liner result in below-average breathability
Performance of the Merrell Women's Moab 3 Mid: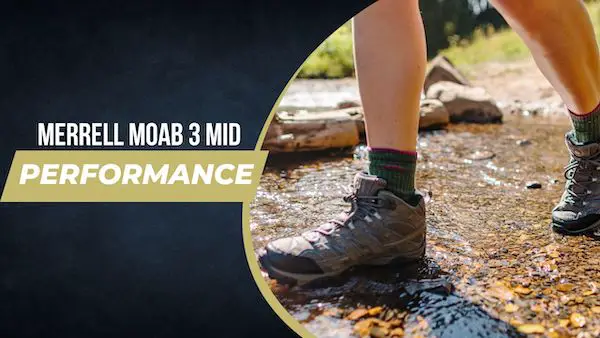 The Merrell Moab 3 for women is a reliable and affordable hiking shoe that stands out. While it's a bit bulky and not the most cushioned, it offers excellent traction and costs less compared to other hiking shoes. It's suitable for various types of day hikes, handling technical terrain, steep trails, rock surfaces, and shallow creeks without problems.
1. Comfort of the Merrell Women's Moab 3 Mid:
As anticipated with its well-liked design, the Merrell Moab 3 Mid delivers exceptional out-of-the-box comfort. The padding around the collar and tongue is notably thick, soft, and remains comfortable even when tightened. The boot's flexibility means minimal break-in time is needed, and the contoured insole offers unexpected arch support.
A significant factor contributing to the Moab for women's acclaimed comfort is its superior fit, encompassing a secure heel grip, dependable lacing system, and adequate toe room that accommodates average-width feet's potential swelling. This snug and well-fitting design was especially evident while tackling steep trails – I encountered no slipping or rubbing on the heel despite navigating challenging inclines.
The only thing we really didn't like was the Moab's lack of a modern, agile feel. Which is present in lighter and more nimble competitors. It carries a moderate weight even though its collar only covers the ankle and its design is more of a traditional style than the running shoe-inspired models that dominate the market today. If your focus is on covering ground swiftly or if you prefer a more technical approach, you might want to explore other options. However, if comfort ranks high on your priority list, particularly considering the cost, we believe it's hard to find a better choice.
2. Women's Merrell Women's Moab 3 Mid Weight:
The size 7 of the Women's Moab 3 comes in at 1.69 pounds. As mentioned earlier, it's quite substantial in weight given its ankle-high design, which reaches slightly beyond the ankle level. The abundant padding and thicker upper material play a role in this.
For comparison, the Moab is in line with direct rivals like the KEEN Targhee III WP Mid (2 lbs. 2.2 oz.) and Oboz Sawtooth X Mid WP (2 lbs. 6.8 oz.), but it significantly outweighs more performance-focused models such as Salomon's X Ultra 4 Mid GTX (1 lb. 14 oz.).
3. Boot Traction of the Merrell Women's Moab 3 Mid: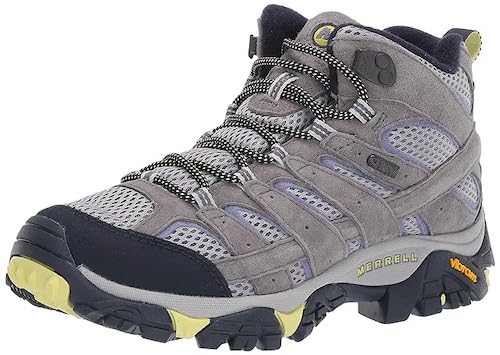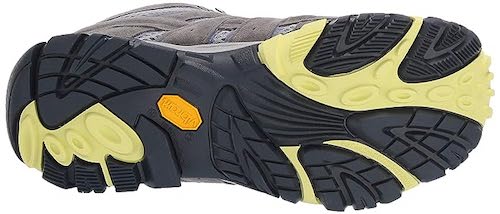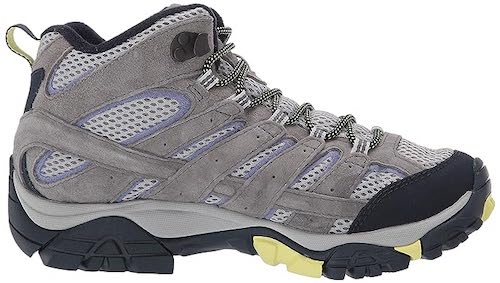 When assessing a shoe's traction, we observe its performance both uphill and downhill on steep and loose trails, as well as its grip on rock slabs. This aspect is where the Moab 3 WP truly shines, as it impressed us with its ability on different terrain. We were pleasantly surprised by how effectively these shoes navigated hard-packed trails, gentle granite slabs, and straightforward scrambles. While they might not be our top choice for technical mountain climbing, their sticky rubber sole certainly delivers for your typical day hike.
The Moab 3 features a Vibram sole with a distinctive tread pattern consisting of circles, swooshes, and hatched designs. In terms of this pattern, the slightly closer arrangement between certain tread elements didn't perform as well on loose scree – shoes with a more spaced-out pattern tend to offer better grip in such conditions. However, overall we were pleased with the softer rubber's excellent stickiness, particularly on exposed rock surfaces.
4. Merrell Women's Moab 3 Mid's Stability and Support:
The Moab 3 waterproof for women performed admirably in terms of support due to its taller ankle opening compared to many other shoes. Moreover, the sturdy molded nylon shank imparts resilience and prevents the shoe from feeling excessively soft with every stride.
The Moab 3 WP demonstrates notable lateral rigidity, ranking among the stiffest shoes we tested in this regard. However, its front end is considerably flexible. Given its torsional stiffness, this combination is somewhat unexpected and might lead to increased foot fatigue during prolonged hikes.
If you're gearing up for hikes involving a heavier pack or multi-day excursions, you might want to explore shoes offering more substantial support and cushioning. On the other hand, for day hikes or carrying a moderately weighted pack (around 20 pounds), the Moab 3 proves to be an exceptional choice for women.
5. Women's Moab 3 Mid's Waterproofing:
The Merrell Moab 3 Mid Waterproof employs its own waterproofing technology instead of the commonly used Gore-Tex liner found in most mid-range and high-end models (note: Merrell does provide a higher-end Moab 3 Mid GTX option for $165).
The positive aspect is that the Moab's substantial upper material and waterproof layer offer adequate defense for traversing creeks (up to around ankle depth), light snow journeys, and occasional rainfall. The upper is equipped with a durable water repellent (DWR) coating for shedding water, yet we observed that the significant mesh sections tended to quickly absorb moisture during creek crossings and in damp grass. Furthermore, when the upper material became soaked it took quite a while to dry.
As expected due to its robust build and cost-effective liner, the Moab 3 Mid tends to run warm. This has proven beneficial during winter trials. On days with temperatures in the mid 60s to low 70s Fahrenheit, the lack of airflow in the boot was noticeable. The upside is that Merrell offers a non-waterproof edition of the Moab 3 Mid, which incorporates extensive mesh and lacks a waterproof layer. This design choice maximizes breathability and accelerates drying times in warmer temperatures.
6. Build Quality and Durability: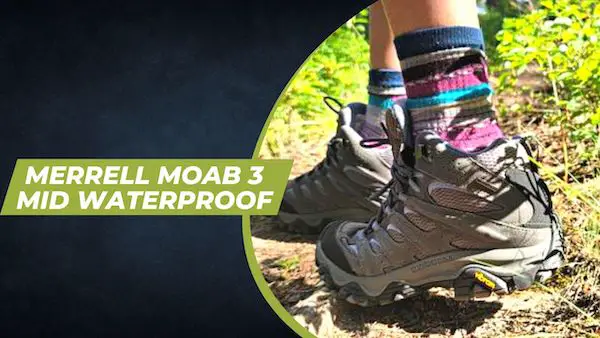 We put these shoes to the test on tough, demanding terrain and noticed some wear and tear after covering 30 miles. If you tend to be tough on your footwear, the longevity of the Moab 3 WP might not measure up to other models. The micro-fleece liner also has a tendency to catch on vegetation, potentially leading to pilling over time. This might not pose a concern if you primarily frequent gentler and less abrasive trails.
Another factor to consider is the cutout leather on the shoe's uppers. While it aids in ventilation, it introduces an additional vulnerability point. Moreover, the seams lack the reinforced stitching found in more robust models. However, the rubber toe cap exceeded in quality and features double-stitching, providing added protection and durability.
Fit and Sizing of the Merrell Women's Moab 3 Mid:
We found that the mid-height boot boasts an outstanding fit that remains accurate to its size. Its length is ideal for preventing toe impact during descents, and the contoured insole, coupled with an effective lacing system, ensured there was no heel slippage.
Furthermore, there's ample space within the toe box, and the boot never felt loose or uncomfortable. This type of fit is versatile and suits a wide range of foot shapes, which has been a key element of the Moab's enduring popularity. For those with feet of notably higher volume, Merrell also provides the design in dedicated wide sizes.
The Competition:
When it comes to competitors, the performance and increased durability, of the Keen Women's Voyageur is worth noting. At a similar price point, the Voyageur offers hikers slightly more durability and boot longevity.
Additionally, if you are looking for a high-quality boot for day hikes, and short multi day backpacking trips the Women's Columbia Newton Ridge Plus hiking boot is the way to go. It delivers on performance and has a nice stylish flair to it. The Newton Ridge Plus is an excellent entry-level boot at an attractive price point.
Merrell Women's Moab 3 Mid Waterproof Hiking Boot Review: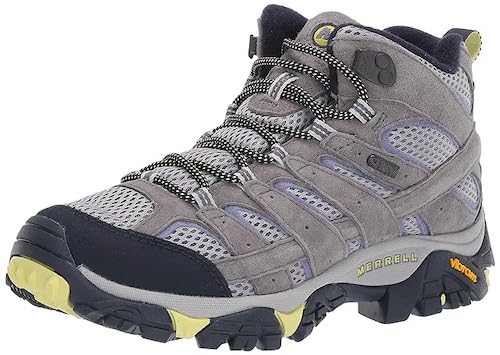 Price: USD $145
Weight: 1.69 pounds (size 7)
Collar height: Over-the-ankle
Color: Brindle, Granite, Bungee Cord, Navy Morning, boulder/blush
Amazon Rating: (4.6/5) 569 reviews
REI Rating: (4.6/5) 301 reviews