When it comes to women with flat feet, selecting the right hiking boots is essential for a painless and enjoyable hiking adventure. The perfect boots should embody quality, flexibility, and substantial cushioning in the insole, midsole, and outsole, ensuring heel stability and support.
The search for the ideal pair might feel overwhelming, but the correct boots can transform your hike from discomfort to delight. As an avid hiker with flat feet, I've curated a selection of the three best hiking boots for women with flat feet.
We also have a buyers guide for the best hiking boots for men with flat feet!
Quick Answer: Best Hiking Boots For Woman with Flat Feet
Editors Choice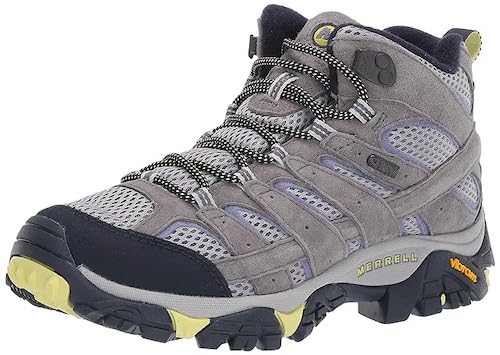 Merrell Women's Moab 3 Mid Waterproof Hiking Boot


Category: Lightweight boot


Upper Material: Leather/Mesh
2nd Best Choice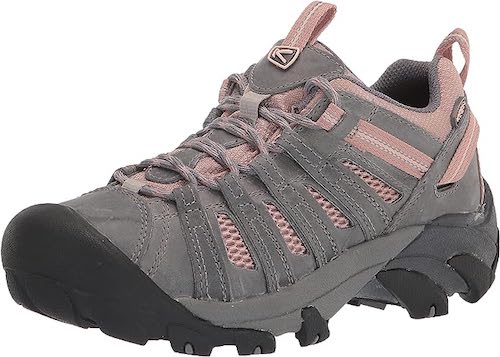 Keen Women's Voyageur Hiking Shoe


Category: Lightweight/ Trail Hiking Shoe


Upper Material: Leather/Mesh
3rd Best Choice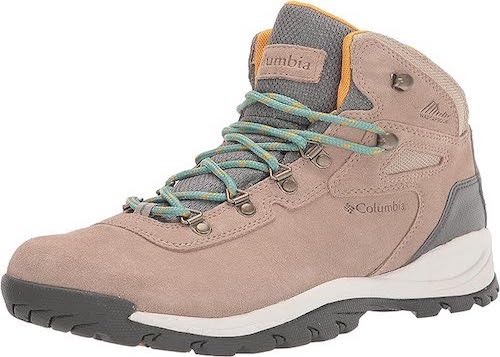 Columbia Women's Newton Ridge Plus Amped Hiking Boot


Category: Lightweight Hiking shoe


Upper Material: Leather/Suede/ Mesh
Best boots for Women with Flat Feet:
No need to give you countless hiking boot choices. I've narrowed it down to my top three picks for women with flat feet. Moreover, these have received excellent reviews from women around the world. Let's take a deeper look at each hiking boot below.
1. Merrell Women's Moab 3 Mid Waterproof Hiking Boot ($145 USD)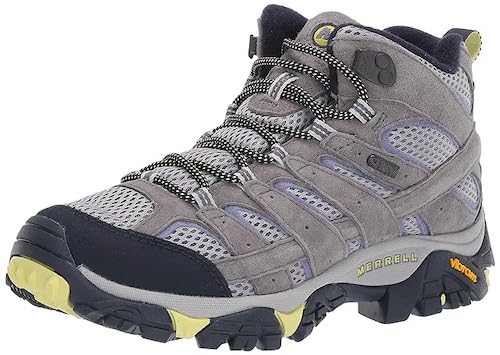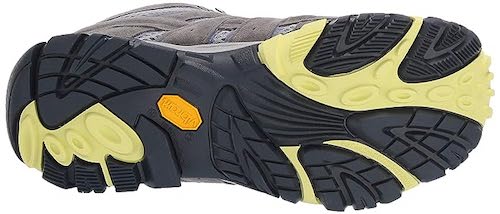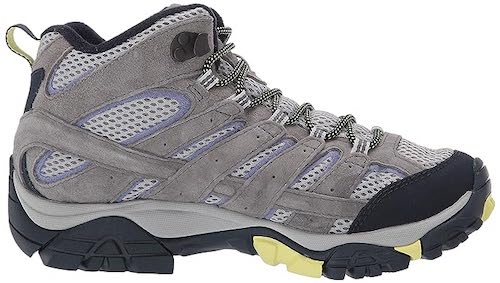 Merrell Women's Moab 3 Mid Main Features:

Leather and performance mesh upper

Bellowed, closed-cell foam tongues keep moisture and debris out of the shoe


Colors Available: Brindle, Granite, Bungee Cord, Navy Morning, boulder/blush

Superb comfort during on-trail adventures

Targeted heel cushioning improves overall comfort by reducing stress on your foot with each step

Collar Height: Over-the-ankle
Pros and Cons of Merrell Women's Moab 3 Mid:
The following are a list of pros and cons, things that we love and hate about the Merrell for women with flat feet:
Pros:
Continues the legacy of the original Moab's strengths: moderate weight, exceptional comfort, and affordable cost.
The Ventilator variant proves to be an excellent choice for hotter conditions.
Available in low-top shoe, mid-height boot, and select between waterproof and non-waterproof models.
Crafted with quality, likely ensuring a lengthy lifespan.
Cons:
Not designed as a high-speed or lightweight shoe. The Moab places comfort above an agile sensation.
Displays merely moderate traction on rocky and muddy terrains.
Slightly excessive flexibility for demanding loads or intricate trails.
Merrell's Moab 3 series has consistently stood out as some of the brand's finest hiking boots, and the women's Moab 3 Mid Waterproof version is no exception. While they may not possess the same level of durability as other hiking boots, they remain well-suited for moderate day hikes. The Moab 3 Mid Waterproof boasts a straightforward, supportive design that prioritizes comfort. Notably, the spacious toe box is comfy especially for individuals with broader feet. The Vibram sole ensures descent traction, yet the boot falls short in terms of both water resistance and long-term durability.
These boots are abundantly padded, delivering remarkable comfort without adding excessive weight to the foot. The inclusion of a well-cushioned footbed and midsole design enhances comfort while traversing uneven terrain as well.
Despite the waterproof technology on the upper mesh material, its effectiveness could be improved. Addressing the mesh design, the boot's durability is a legitimate concern for more heavy duty hikers. The sections surrounding the toe box, which have the most mesh, are susceptible to tearing.
The boots provide substantial padding for the ankles, heels, and feet, while also allowing ample room for the foot – especially for flat feet! They boast commendable breathability and offer satisfactory traction across diverse landscapes.
Read our full review of the Merrell Women's Moab 3 Mid.
Should You Buy the Merrell Moab 3 Mid Waterproof?
Looking at this overall performance, the Merrell Moab 3 Mid is a great hiking boot. Although these boots have downsides, they are simple, comfortable and offer lots of room for people with wider feet. They also provide substantial support in the underfoot, heel, and ankle as they have supportive, air-cushioned, contoured and EVA sole.
The Moab 3 Mid does have a lightweight feel to it and is an affordable option for those that want to stick to a limited budget or easier trials. This boot is an amazing option for people that are new to hiking or plan on hiking easier terrain with less obstacles. The design of the boots keep particles at bay and the breathable lining protects against odors. The sole also comes with an anti microbial solution feature!
I absolutely loved these boots when I used them for a short hike in Pokhara, Nepal. It was the Shiva and Peace Pagoda hike, which required some off-trailing and a continuous elevation climb of about 2,000 ft over the short hike. The shoe performed well and it felt light and athletic while I was walking!
---
2. KEEN Women's Voyageur Hiking Shoe ($145 USD)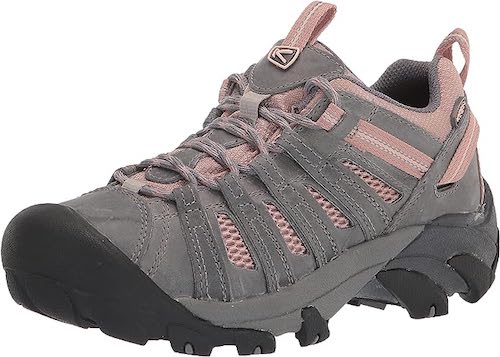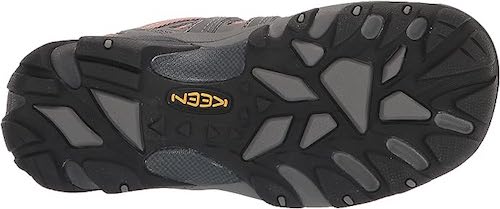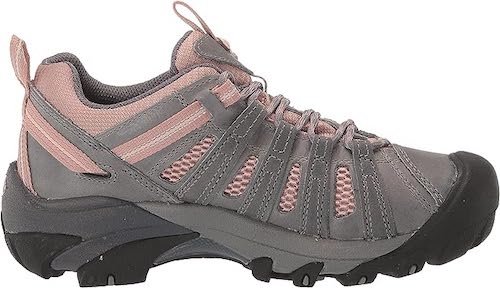 KEEN Women's Voyageur Main Features:

Leather and performance mesh upper

Cleansport NXT for natural odor control

Weight: 1 lb 10.5 oz women's size 7

Colors Available: Brindle/Alaskan Blue and Drizzle/Fawn

4mm multi-dimensional lugs

Contoured heel lock Torsion stability ESS shank

Collar Height: Over-the-ankle
Pros and Cons of KEEN Women's Voyageur:
The following are a list of pros and cons, things that we love and hate about the Keen for women with flat feet:
Pros:
Water resistant leather and mesh upper
Dual density compression molded EVA midsole
Removable metatomical dual density EVA footbed
Cons:
The traction can slip on difficult terrain
EVA foam on the sole is more susceptible to wear-and-tear than the rubber
The KEEN Voyageur have a breathable mesh construction and are lightweight. The boot has water resistant leather and the upper material is mesh, a dual density EVA midsole, and non-marking rubber sole with 4mm lugs. 
The Keen Voyageur proves to be a perfect companion for day-hiking in hot and arid environments, owing to its well-ventilated mesh composition. Although they boast a lightweight build, they lack the extensive cushioning and support present in other similar footwear. Notably, they feature a safeguarding rubber toe-box in the iconic Keen style. However, the exposed EVA foam on the sole tends to degrade after repeated hiking seasons. These shoes lean towards the wider side in terms of fit, making them an excellent choice for women with flat or wide feet.
The Voyager is an excellent option tailored to women with broader feet, particularly those seeking a hiking shoe suitable for traversing arid regions. Its design caters to optimal comfort and support while accommodating wider foot dimensions, making it an ideal choice for those in search of footwear tailored to both their foot shape and the demands of arid terrain.
Read our full review of the Women's Keen Voyageur Hiking Shoe.
Should You Buy the Keen Voyageur Hiking Shoe?
Overall, if you're looking for hiking shoes rather than hiking boots then Keen Voyageur is your shoe. The mesh and leather shoe make the shoe very comfortable and breathable and sufficient stability for uneasy terrain. However, their water-resistant upper materials aren't completely waterproof. Which means it's okay to walk around in light rain and dewy grass, but once the shoe is submerged in water, the shoe can become completely soaked inside. However, if you are hiking or trekking in dry climates then a non-waterproof shoe like the voyager is perfect. As They tend to be more breathable compared to a shoe with a waterproof lining. 
The boot has great ventilation, a wide toe room, and a good footbed design. And in fact, if you live around drier regions and have wide feet, these are a comfortable and durable shoe at a great price point.
These are comfy and stylish boots that I love wearing (when it's dry out!) I wore these during my trek to Khumai Danda in Pokhara and they performed great. I would recommend these to any type of hiker, from beginner to expert!
---
3. Columbia Women's Newton Ridge Plus Waterproof Amped Hiking Boot ($89 USD)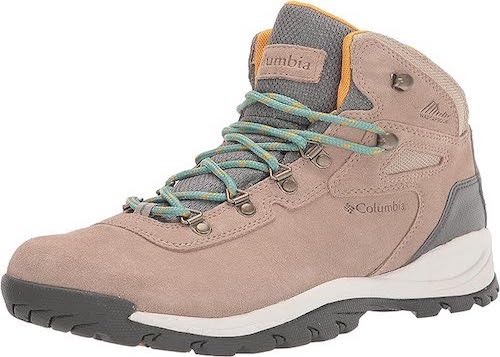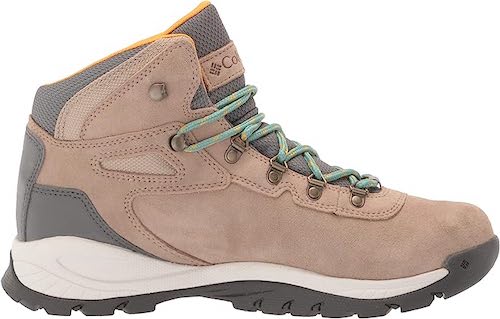 Columbia Women's Newton Ridge Plus Main Features:


Lightweight, durable midsole for long lasting comfort, superior cushioning, and high energy return


Colors Available: Over 15 different color combos!

Features a lace-up closure for an adjustable, secure fit

Advanced traction rubber sole for slip-free movement on rough ground

Collar Height: Ankle high
Pros and Cons of Columbia Women's Newton Ridge Plus:
The following are a list of pros and cons, things that we love and hate about the Columbia for women with flat feet:
Pros:
Good for plantar fasciitis, even on very long hikes
Good support for the arch and ankle ventilation
Delivers style and durability with its contrasting color combinations and soft mesh
Cons:
Require a break-in period
Laces can seem short for some hikers
Lacks traction on off the beaten path trails, or while carrying heavyloads
Out of all the boots, Columbia Newton Ridge ticked all the boxes for comfort, water resistance, and weight. Whether you're wearing these boots for shorter hikes or long outings, these boots are super comfy. Though the design makes it look a bit tough and stiff with all the leather, these are some of the most comfortable boots I have worn. A lot of people complained that on longer hikes, the Newton Ridge did not perform as well, but it was good for me. 
Regarding the support, the Newton Ridge is decent but not phenomenal. When I bent the boot, it did not hold its shape which means the boot is flexible and thus less supportive. However, it has a decent amount of flexibility in the forefoot. 
The Omni-Grip rubber soles provide great traction on moderate rocky trails but didn't perform well on technical hikes. Since these boots are designed for moderate hikes, they are slightly slippery on granite slabs.
Even though the upper is entirely one piece of leather, the boots performed will in terms of being waterproof and seam-sealed. These shoes are perfect for rainy hikes and puddles and keeps your feet dry. However, water will start to leak if fully submerged in water. 
Overall, the leather of the upper part of the shoes are durable. Out of the two hiking boots mentioned above, the Newton Ridge are the ones I've worn the most. The boot also showed less sign of wear and tear, none of the seams have come off and soles are intact. These boots are perfect for normal to moderate hikes!
Read our full review of the Columbia Women's Newton Ridge Amped.
Should You Buy the Columbia Newton Ridge Plus Amped?
Honestly, I think the price is hard to beat for an ankle-high, waterproof leather hiking boot. They are not only comfortable but has a stylish look as well. These boots are lightweight and extremely durable. Additionally, they perform well in the rain and are constructed with a lightweight cushioned middle and non-marking traction rubber. Ultimately, offering sufficient support on different levels of terrains.
The reason why I chose the Newton Ridge is because along with properly ventilated and water proof seals they have a high-performance boost and advanced traction that make stability and grip great while hiking on normal and moderate terrain. The rubber outsole makes an excellent choice for cushioned support, which makes it a perfect fit for both beginners and advanced hikers.
---
How to choose the right hiking boot?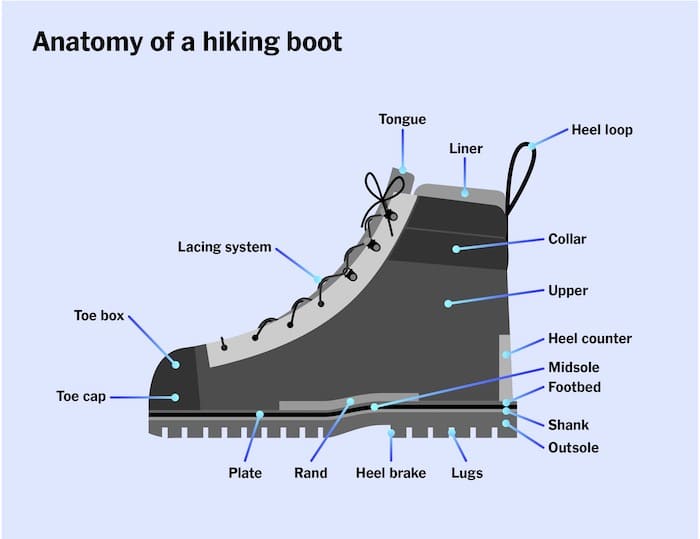 Knowing how to choose the right hiking boots depends on the type of hiking you plan on doing as well as where you plan on hiking.
First, make sure to consider your hiking time – winter, rainy season, or summer. Your choice of boots will depend on weather conditions, potentially requiring waterproof features. The type of midsole you have will differ depending on your location as well.
There are three key factors to consider while buying your boots:
1. Boot Type:
Select a boot that suits your activity. Opt for ultralight trail shoes for hiking or sturdy waterproof mountaineering boots for treks.
2. Boot Components:
Understanding boot components is essential. Familiarize yourself with hiking boot uppers, lowers, midsoles, outsoles, and compatibility with crampons.
3. Boot Fit:
For comfort and protection, especially for flat feet, prioritize a proper fit. Leave room for toe movement, crucial when hiking downhill with a heavy backpack, to prevent blisters.
Best Hiking Boots For Woman with Flat Feet:
Editors Choice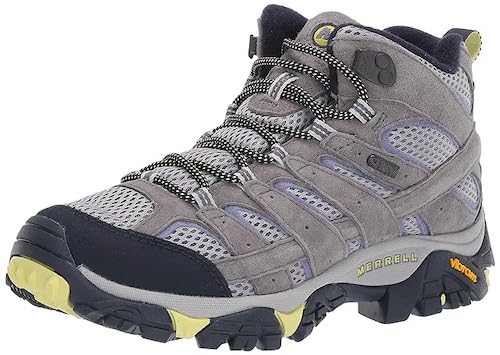 Merrell Women's Moab 3 Mid Waterproof Hiking Boot


Category: Lightweight boot


Upper Material: Leather/Mesh
2nd Best Choice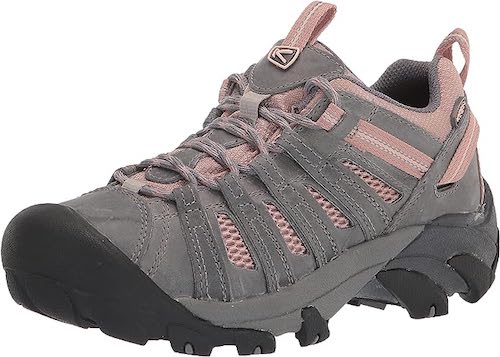 Keen Women's Voyageur Hiking Shoe


Category: Lightweight/ Trail Hiking Shoe


Upper Material: Leather/Mesh
3rd Best Choice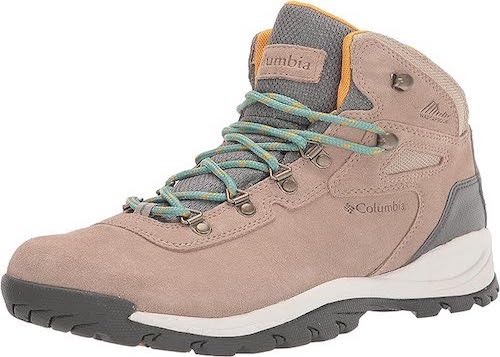 Columbia Women's Newton Ridge Plus Amped Hiking Boot


Category: Lightweight Hiking shoe


Upper Material: Leather/Suede/ Mesh