The women's Keen Voyageur proves to be a perfect choice for day hikes under hot and dry weather, attributed to its breathable mesh composition. Although it boasts a lightweight build, it falls short in comparison to other shoes in terms of cushioning and support. Noteworthy is its iconic Keen appearance, including a safeguarding rubber toe-box; however, the exposed EVA foam on the sole tends to wear out after repeated hiking seasons.
With a wider cut, these shoes cater to individuals struggling to find well-fitting options for their broader or flat feet. Making them one of our top rated boots for women with flat feet.
If you need to find out just how to choose a hiking boot, make sure to check out that blog before buying. We also have a backpacking for beginners blog for more information before you hit the trail.
Quick Facts about the Keen Women's Voyageur Hiking Shoe: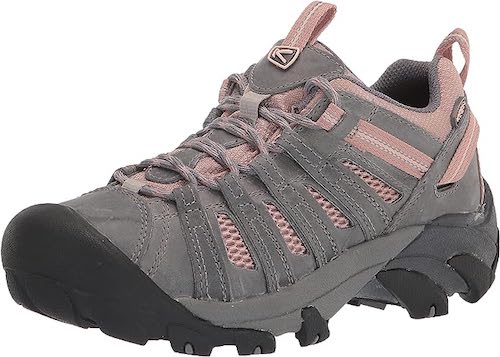 Price: USD $135
Weight: 1.65 lbs women's size 7
Collar height: Over-the-ankle
Color: Brindle/Alaskan Blue and Drizzle/Fawn
Amazon Rating: (4.5/5) 2,107 reviews
REI Rating: (4.4/5) 277 reviews
What we like:
Lightweight breathable mesh upper allows for feet to stay cool in hotter climates
Ample toe box room for women with wide or flat feet
Excellent traction for most terrains
What we don't like:
May run large for narrow feet
Lacks flexibility out of the box, requires breaking in
Durability is lacking for more extreme hikers, or off the beaten path trails
Performance of the Keen Women's Voyageur: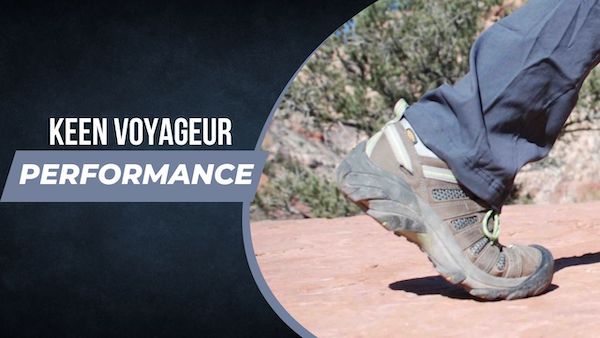 The Keen Voyageur for women features an upper combining "water-resistant" leather and mesh, accompanied by a dual-density EVA midsole and a non-marking rubber sole equipped with 4 mm lugs. While the shoe length remained accurate to its size, its design leaned towards the wider spectrum in contrast to the other models scrutinized in this review.
1. Comfort of the Women's Keen Voyageur:
Keen is known for crafting footwear with a wider cut, and these hiking shoes stayed true to that signature style. While this is a plus for individuals with wider or flat feet, it might not be as suitable for hikers with narrower feet. Moreover, we did feel a lack of sufficient forefoot cushioning, which became somewhat problematic during longer multi day hikes.
We did enjoy the ample room in the wide toe box allowing our board feet to feel comfortable. However, we would note that the room in the toe box might be excessive if you have more narrow feet. Therefore, make sure to opt for a size that fits correctly as you might encounter friction due to foot movement, while a size too narrow could lead to rubbing against the shoe's sides.
2. Women's Keen Voyageur Weight:
Weighing in at 1 lb 10.5 oz in a women's size 7, the Keen finds itself comfortably positioned in the middle of the weight spectrum among their counterparts. While it's entirely possible to achieve a reduction of a few ounces on each foot by opting for a lighter footwear alternative, it's important to consider the trade-offs involved. Opting for a lighter shoe might entail compromising on certain levels of support and durability that this particular pair admirably delivers. 
Overall, for day hikes and shorter multi day hikes and treks, the weight of the Voyageur poses no problems. As the hiking shoe provides a great mixture of comfort and durability for the weight it comes at.
3. Boot Traction of the Keen Voyageur: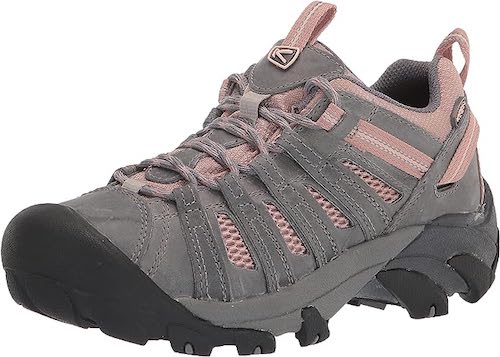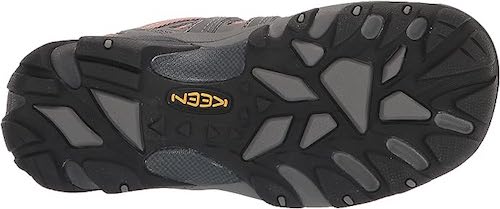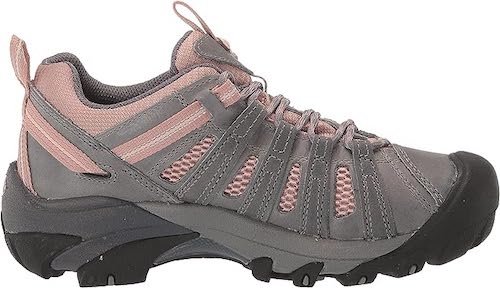 The soles of the Voyageur are equipped with 4 mm multi-directional lugs, which offer excellent traction, particularly suitable for navigating moderately technical terrains. While they might not possess the absolute stickiness found in some other footwear options, they still prove to be quite effective across a diverse range of loose dirt trails, and their capabilities extend even to accommodating instances of low-angle scrambling when needed.
4. Women's Keen Voyageur's Stability and Support:
The arch of this shoe lacks curvature, attributed to its broader design. Consequently, the support in that region is notably diminished, affecting the shoe's lateral stability. However, the lack of curvature does allow for flatter feet to be more comfortable while using these shoes.
The shoes however, do break in after a few hikes and are more flexible, making the lack of curvature in the shoe seem less prominent. Overall, the Keen Voyageur remains effective for casual day hikes, and for hikers looking for a robust shoe to protect them.
That being said if you're seeking footwear capable of accommodating a heavier backpack load, there are numerous options with sturdier soles and superior overall support available.
5. Keen Voyageur's Waterproofing:
The Voyageur features a "water-resistant" upper, implying that it can keep your feet dry in light rain or when walking through dew-covered grass. Which we found to stand true during our hikes in the wet environment of Pokhara in Nepal.
However, if the shoes are fully immersed in water, they become saturated within approximately 30 seconds. While this characteristic might be a deal-breaker for individuals in certain regions, it can be less significant for hikers predominantly exploring arid climates. In such cases, non-waterproof shoes offer enhanced breathability compared to those with waterproof linings. It's important to highlight that Keen does not offer a waterproof version of the Voyageur model for women.
6. Build Quality and Durability: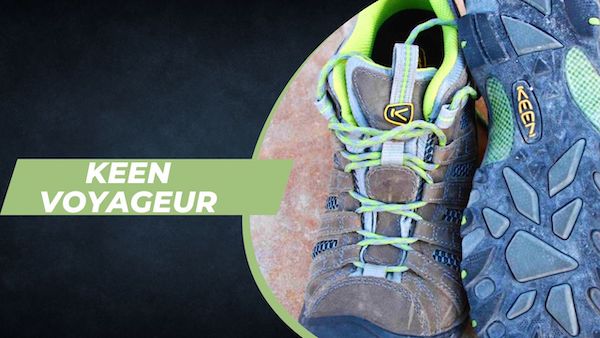 In general, Keen's Voyageur exhibits a robust and enduring build. The added rubber protection on the toe gives the shoe an appearance that prioritizes functionality over style. Which we found to be true during our use as the shoe successfully withstood the impacts of even the most clumsily maneuvered toe-stubs. Nevertheless, the initial component to display signs of wear is the exposed EVA foam on the sole, which proves delicate when compared with the sturdier rubber underside.
When considering additional reviews from other users, the main issue that arose was that the sole exhibited signs of deterioration. Many of these hikers were using the shoes on rugged terrain and off the beaten path trails. Therefore, if you anticipate hiking across rocky landscapes, it's advisable to search for hiking shoes designed with comprehensive rubber protection enveloping the entire footwear.
Fit and Sizing of the Keen Women's Voyageur:
Notably, the inclusion of a more spacious toe box is a distinctive feature, providing ample room for toe movement and preventing discomfort during downhill treks. However, this generous toe box might render the Voyageur appear larger than anticipated for individuals with narrower feet, potentially warranting a closer consideration of sizing.
On the flip side, this design element proves advantageous for those with wider and flatter feet, offering a comfortable and accommodating fit. For those in search of footwear that caters to such foot profiles, these shoes hold promise, aligning well with individuals seeking a roomier and more expansive fit for optimal hiking experiences.
The Competition:
When considering rivals, it's important to highlight the impressive performance and enhanced resilience of the Merrell Women's Moab 3 Mid. Falling within a comparable price range, this boot provides hikers with a touch more durability and extended boot lifespan.
Furthermore, for those seeking a top-notch boot suitable for day hikes and brief multi-day backpacking excursions, the Women's Columbia Newton Ridge Plus hiking boot is an ideal choice. It excels in terms of performance and boasts a stylish flair. The Newton Ridge Plus stands out as an outstanding beginner-level boot with an appealing price tag.
Keen Women's Voyageur Hiking Shoe – Review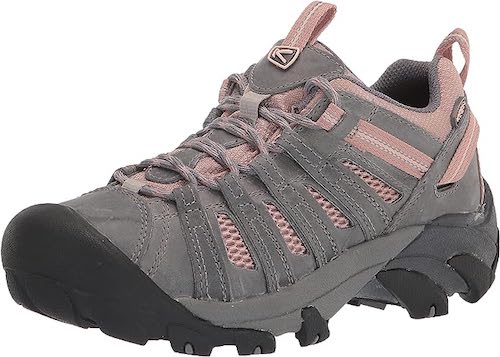 Price: USD $135
Weight: 1.65 lbs women's size 7
Collar height: Over-the-ankle
Color: Brindle/Alaskan Blue and Drizzle/Fawn
Amazon Rating: (4.5/5) 2,107 reviews
REI Rating: (4.4/5) 277 reviews