Born in France in 1979, Marco Siffredi nicknamed the "l'Ange Blond." (The Blond Angel) was a celebrated snowboarder whose name became synonymous with extreme mountain sports. His fearless spirit led him to conquer some of the planet's highest peaks, most notably Mount Everest, which he descended by snowboard on two occasions. 
Tragically, his remarkable journey was abruptly cut short at the age of 23, during what would be his final snowboarding venture. Regrettably, he disappeared while descending the Hornbein Couloir on Mount Everest's north face, during his third expedition.
Defying Gravity and Redefining Limits in Snowboarding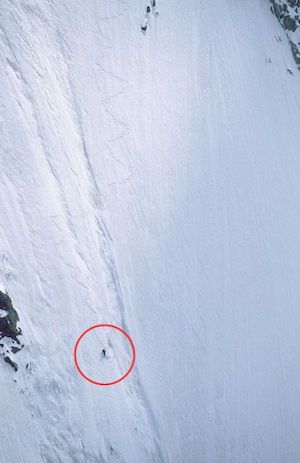 Introduced to snowboarding from an early age, Marco Siffredi swiftly developed passion for the sport. In a remarkable display of skill, he achieved a significant feat merely a year after mastering snowboarding. Specifically, in May 1996, he tackled the Mallory, an intricate route on the North Face of the Aiguille du Midi. 
As the season drew to a close, Marco achieved another milestone by successfully executing the first snowboard descent of the challenging Chardonnet, featuring sustained gradients of 55 degrees. Accompanied by his friend Philippe Forte, this achievement stood as a fond memory, due to Philippe's tragic demise in an avalanche at Chamonix's Grands Montets ski area soon after.
(Image: Marco Siffredi as the first snowboarder and second person to descent Nant Blanc on Aiguille Verre in the Mont Blanc Massif. PC: Rene Robert)
Returning to Chamonix in June 1999, Marco continued to etch his name into the world of snowboarding history. He completed the inaugural snowboard descent and became the second person ever to descend the coveted Nant Blanc on the Aiguille Verte. Notably, this route had remained unconquered since Jean-Marc Boivin's legendary ski descent in 1989. The Nant Blanc's nature made successful descents a rarity, and Marco's triumphant achievement silenced any lingering doubts about his greatness. This feat firmly established his position among the globe's most accomplished extreme skiers and snowboarders, dispelling any misconceptions about him being just an ordinary "snowboard punk."
Marco Siffredi's Ascent to Great Heights
Following his triumphant descent of the Nant Blanc, Marco Siffredi continued to push the boundaries. In the subsequent autumn, he embarked on a pioneering endeavor. He became the first to descend Dorje Lhakpa, a towering peak in Nepal standing at 6,988 meters. His descent of the mountain lasted about 3,000 feet with passages of 55 degrees in steepness. He did this all while not using supplemental oxygen (Noted in Jeremy Evans' book: See You Tomorrow The Disappearance of Snowboarder Marco Siffredi on Everest).
From its summit, he was granted a sweeping vista encompassing two of the planet's loftiest summits: Shishapangma and Mount Everest. This experience kindled a transformative idea within Marco, prompting him to reach out to Russell Brice.
(Image: Marco in Dorje Lakpa, Nepal)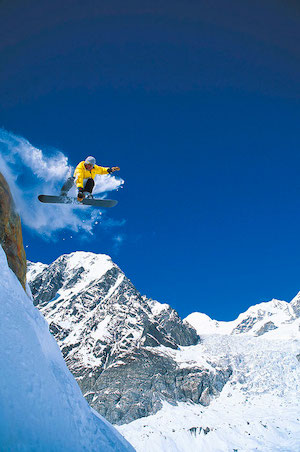 Brice, recognizing Marco's potential, advised the young snowboarder to broaden his high-altitude experience by conquering other peaks above 8,000 meters before attempting Everest. This sage counsel was grounded in the need to ascertain Marco's adaptability to extreme altitudes. Consequently, the two collaborators began charting a course toward the formidable Cho Oyu, another Himalayan giant. Before undertaking this challenge, Marco revisited South America in June 2000 to summit Huayna Potosi, a towering peak reaching 6,088 meters in Bolivia. As autumn set in, Marco reached the pinnacle of accomplishment yet again, successfully summiting and descending Cho Oyu, which stands as the sixth-highest peak on Earth, at 8,201 meters.
Bolstered by these remarkable triumphs, Marco Siffredi's resolve to conquer Everest became resolute, fueled by his expanding repertoire of high-altitude achievements.
Race to the Summit: Marco Siffredi's Everest Snowboard Descent Expedition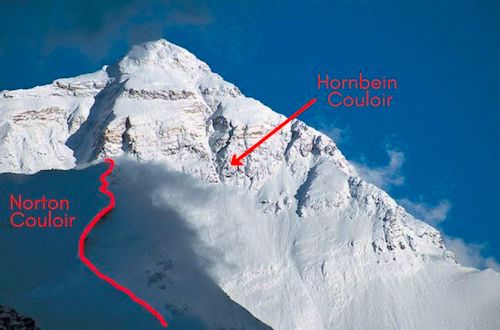 During the spring of 2001, Marco embarked on a journey with Himalayan Expeditions bound for Mount Everest. A notable presence ahead of him was Dr. Stefan Gatt, a seasoned rider and alpinist hailing from Austria. Dr. Gatt had already accomplished a successful snowboard descent of Cho Oyu and chose a particularly challenging approach by opting for a climb devoid of Sherpa support or supplemental oxygen. Despite the inherent difficulty, both riders shared a common objective – to achieve a groundbreaking snowboard descent of Everest.
Marco's initial plan was to summit and descend via the Hornbein Couloir. However, upon reaching the mountain, he encountered a disheartening lack of snow on the wind-battered summit. 
Departing in the spring offered improved summiting odds due to lighter snow conditions, but this very factor thwarted his original aspiration. As the climbing team progressed upward, an accumulation of snow occurred, eventually allowing them to proceed with an alternate route: the Norton Couloir. This change in plans marked a pivotal juncture in Marco's Everest pursuit.
Hitting a Milestone on Everest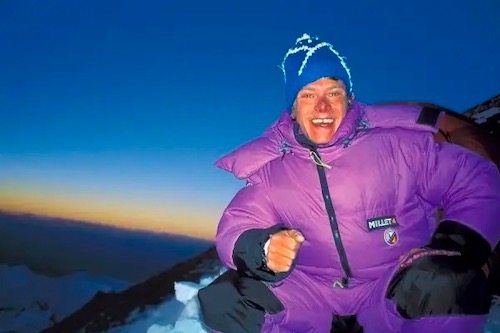 The day after his 22nd birthday, on May 23, Marco Siffredi successfully reached the summit of Everest. Initiating his descent, he carved his way past the weary line of climbers who were making their ascents. Notably, his snowboard binding succumbed to the extreme cold at an altitude near the summit. 
Fortunately, a Sherpa managed to repair it using baling wire. With his equipment ready, Marco ventured into the couloir, skillfully navigating slopes featuring gradients ranging between 40 and 45 degrees. After a brief respite of about an hour at the North Col, he continued his journey, conquering the final 1,000 meters of descent. Remarkably, he arrived at Advanced Base Camp in under four hours from his summit departure.
The incredible news reverberated across the snowboarding community as the team back at Base Camp quickly relayed the achievement through satellite communication. While Dr. Stefan Gatt had also achieved the summit just a day before Marco, his descent involved dismounting his board and down-climbing through the terrain. In contrast, Marco completed an uninterrupted snowboard descent from the summit to Advanced Base Camp, securing his place in history as the first person to continuously snowboard down the world's highest peak.
Marco Siffredi's Journey to Conquer Everest's Hornbein Couloir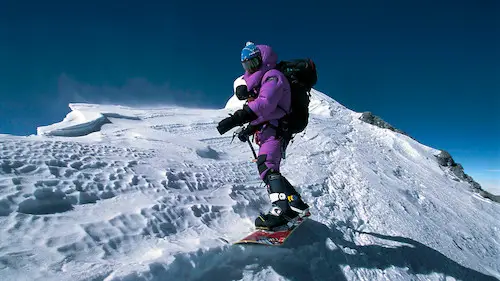 Continuing his journey towards conquering the Hornbein Couloir – the formidable North Face of Everest and his ultimate objective – Marco set his sights on Shishapangma, another imposing Himalayan giant. 
During the autumn of 2001, he achieved the summit of Shishapangma, the 14th highest peak globally. However, due to adverse high winds, he had to forgo using his snowboard for this particular ascent.
In the subsequent summer, Marco, accompanied by his Sherpa companion Phurba, Russell Brice, and Loppasang Temba Sherpa, spent time in Chamonix. It was during this period that they meticulously crafted a blueprint for a second attempt at conquering Everest. The endeavor's inherent dangers, complex logistical considerations, and the necessary funding could have dissuaded many, but Marco's determination remained unswayed, propelling him forward despite the challenges.
The Events Unfolding During Marco's Fateful Everest Climb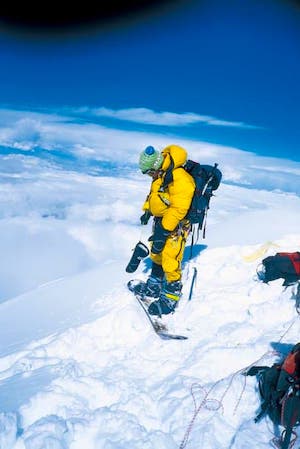 The account of Marco Siffredi's ill-fated expedition on Everest stands as a gripping tale of both triumph and tragedy. As we delve into the events that transpired, we witness the journey that unfolded on the world's highest peak, forever etching Marco's name into the records of adventure.
Thursday, 8 August, 2022
Departing from Chamonix, Marco inadvertently leaves behind the trusty good-luck cross that had accompanied him on previous journeys. Upon reaching Kathmandu, he checks into the Hotel Tibet and establishes contact with Phurba, Pa Nuru, and Da Tenzing—three invaluable Sherpas integral to the logistical support needed for Marco's ascent to the summit of Everest.
Saturday, 10 August, 2022
The team successfully reaches Advanced Base Camp (ABC), situated at the base of the North Col. Marco's prior journey to Everest took place during the spring, prior to the onset of the monsoon season. Typically, the majority of Everest ascents occur during this time when snow accumulation is comparatively lower. 
However, it's noteworthy that an overwhelming majority of Everest climbers do not approach the mountain with the intention of snowboarding down. In contrast, Marco's expedition occurs in the fall, post-monsoon season, capitalizing on the presence of deeper snow for his descents.
Upon arriving at ABC, Marco is taken aback by the stark contrast to his previous experience two years ago during spring. The bustling site that once resembled an overcrowded campground is now almost unrecognizable, transformed by the different seasonal context.
Friday, 23 August, 2022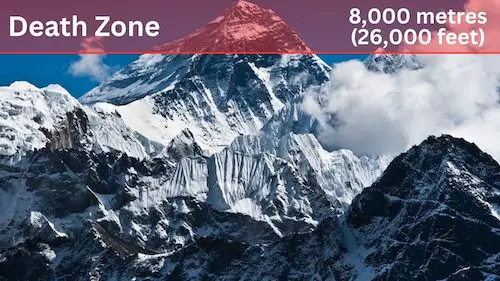 Over the course of a single night, an ample layer of thirty centimeters of fresh snow blankets the mountain. Upon surveying the mountain, Marco takes notice of a drastic transformation on the North Face – a complete clean rip that exposes the rock underneath. He aptly describes this sight as a "festival of avalanches." The weather on Everest falls into a predictable pattern, with favorable conditions during the daytime giving way to afternoon snowfall. The face becomes a daily battleground for avalanches, and the lower parts of the route turn icy.
Back in Chamonix, Yann Giezendanner fulfills the role of Marco's trusted meteorologist. Similar to how Surfline aids surfers, climbers have long relied on Yann's expertise to determine the viability of their expeditions. Despite facing technical issues with the team's two-way radio, Marco leverages a satellite telephone to maintain consistent communication. 
In the days that follow, the Sherpas initiate the task of fixing ropes and transporting equipment to Camp 1, progressively approaching the Death Zone situated above 8,000 meters. Even at an elevation just above 6,000 meters, Marco contends with persistent headaches. At this altitude, even routine tasks such as donning boots, eating, and sleeping become difficult. From this juncture onward, anticipation revolves around further hardship and suffering.
Wednesday, 28 August, 2022
Embarking on a preliminary run, the team makes their way to the North Col before establishing a bivouac for the night. However, their plans are disrupted by an incoming storm in the region. 
Subsequently, the team undertakes a descent the following day, while dealing with adverse weather conditions. During this descent, Marco securely fastens his snowboard bindings and descends alongside the fixed ropes, with the Sherpas capturing the descent on video.
Saturday, 31 August, 2022
Marco and the Sherpas return to the North Col, and the ensuing day proves to be a challenging endeavor as they navigate through waist-deep snow en route to Camp 2, situated at an altitude of 7,500 meters (24,606 feet).
Monday, 2 September, 2022
Upon awakening, the team finds themselves greeted by descending snowfall. In the hope of improved conditions, the Sherpas shoulder substantial packs and embark on an ascent towards Camp 3. As they gain altitude, the snow cover gradually diminishes. 
Unfortunately, the worsening weather conditions compel them to halt their progress and deposit their equipment at an elevation of 7,700 meters (26,262 feet) before retracing their steps.
Despite the inclement weather, the daily communication with Yann forecasts a more favorable outlook on the horizon. Encouraged by this projection, Marco contemplates the initial strategy for a summit attempt. Ultimately, he resolves to send the Sherpas ahead to establish Camp 3 at 8,300 meters (27,230 feet) before they descend back down.
Wednesday, 4 September, 2022
Yann's weather update reveals an approaching weather window: slight flurries for the upcoming days, with a forecast for clear skies on Sunday, September 8. Marco designates this day for his summit attempt, eagerly expressing his anticipation. Yet, his excitement is tempered as he says to himself, "But the hardest part has yet to be done, don't get carried away."
Meanwhile, Olivier Besson, a mountain guide from Megève, France, is making a determined effort to catch up with Marco from lower altitudes. Phurba Sherpa encourages Marco to wait for Olivier's arrival, as he is carrying a repaired radio. 
The device will establish a vital communication link between Marco, the descending Sherpas, and the valley below. Despite the importance of this connection, the unpredictable nature of mountain opportunities compels Marco to seize the moment, convinced that the time for action has arrived.
Friday, 6 September, 2022
Marco departs from Camp 2 and ascends to an elevation of 7,900 meters (25,918 feet). Whereas the Sherpas continue onward to 8,300 meters, establishing High Camp. 
The day unfolds with a vivid blue sky and potent sunlight. Marco, bathed in sunshine, stands outdoors at nearly 8,000 meters, engaging in his routine phone calls. While he candidly shares the actual progress with his friends, he deliberately conceals the truth from his parents, informing them that he remains at ABC (Advanced Base Camp). 
Marco's intention is to spare them any added distress. He chooses to withhold tales of his presence in an environment where both mind and body are rapidly succumbing to the extreme conditions until he is safely back at Base Camp.
Saturday, 7 September, 2022
Marco advances to Camp 3, formally stepping into the realm known as the Death Zone, where the human body's regenerative capabilities cease above 8,000 meters, leading ultimately to fatality. The altitude's adverse effects begin to manifest, as Marco starts to experience the toll it takes on his well-being. 
Seeking a weather forecast, he contacts Yann Giezendanner in Chamonix. Yann forecasts clear conditions for Saturday night and Sunday, with some clouds potentially bringing snowfall, mostly below 8,000 meters. Yann advises Marco not to linger too long due to the anticipated afternoon wind intensification and the uncertain conditions the following day. 
Saturday, 7 September, 2022
By 1:30 a.m., the team departs from Camp 3, initiating the daunting endeavor of blazing a trail through waist-deep snow at an altitude of 8,000 meters. After a grueling twelve-and-a-half-hour ordeal within the Death Zone, at 2:10 p.m., the team finally reaches the pinnacle of Everest, standing at 8,848 meters (29,028 feet) above sea level. Notably, this ascent consumes three times more time than Marco's initial Everest climb during the spring of 2001.
Typically, reaching the summit of the world's highest mountain brings an unparalleled euphoria and marks the realization of a lifelong aspiration. However, for Marco, this achievement merely marks the outset of his pursuit. The summit is not the end goal but a mere stepping stone. His true aim, to carve the first tracks down the formidable Hornbein Couloir, still awaits, encompassing a descent of 3,000 meters.
As the clouds gather from beneath, concerns mount among the Sherpas regarding the conditions and the late hour. Despite their advice to the contrary, Marco stands at a pivotal juncture, where all his efforts over the past year and a half have culminated. This might be his sole opportunity. At 3:00 p.m., Marco replenishes his empty oxygen bottle and fastens his snowboard. With the assistance of Phurba Sherpa, his pack is equipped with a fresh oxygen canister, rappel gear, and a sizable three-liter water bottle. Given the gravity of the descent he's about to undertake, the pack's contents might seem minimal, yet they are sufficient for his meticulously laid-out plan.
Marco's Final Descent
Marco starts his descent, carving through the world's highest untouched snow. After a few turns, he pauses on a ridge, allowing the Sherpas to catch up. His breathing is labored, evidence of the exhaustive effort he's exerted: making turns with a laden pack at 8,800 meters, following more than twelve hours of grueling climbing. 
He permits the Sherpas to lead and cautions them about the rope's placement. Significantly, he rides over the rope, a symbolic transition as he turns toward the Hornbein Couloir. Enveloped by billowing clouds, at 3:15 p.m., Marco becomes a small figure against the mountain's alopes.
The Sherpas waste no time descending from the summit. While packing up at Camp 3, their gaze is drawn downward to the North Col, nearly 1,300 meters below. Astonishingly, they witness what appears to be a figure rising and then silently sliding down the mountain. 
This sight defies explanation, as the seasoned Sherpas are entirely confident that no one else is sharing the mountain with them. Each of them distinctly perceives this mystifying phenomenon. Upon arriving at the spot they observed the figure, no snowboard tracks were found. This grim realization strikes them: Marco is no longer alive.
Events Leading to Disappearance
On September 8, 2002, Siffredi embarked on his third endeavor to snowboard down the Hornbein Couloir. Having accomplished this feat successfully twice in the past, he held a reputation as an experienced and adept snowboarder. However, during this attempt, he confronted challenging snow conditions and suffered a fall while negotiating a particularly treacherous section of the mountain.
Search and Rescue Efforts for Marco Siffredi
Upon Siffredi's failure to return to base camp, a search and rescue mission was initiated. However, adverse weather conditions and perilous landscapes posed obstacles in locating him. Despite exhaustive endeavors that encompassed helicopter searches and canine units, Siffredi's remains were never located, leading to the presumption that he died upon impact.
Nearly a month after his disappearance, a memorial ceremony was conducted for Marco at Everest Base Camp. In attendance were Marco's family, including his girlfriend Stephanie, as well as his close friends Simon Favier, Rene Robert, Russel Brice, and Ludo Collet. The event also drew a substantial gathering of Sherpas who had shared the mountain journey with Marco.
Has Marco Siffredi Ever Found?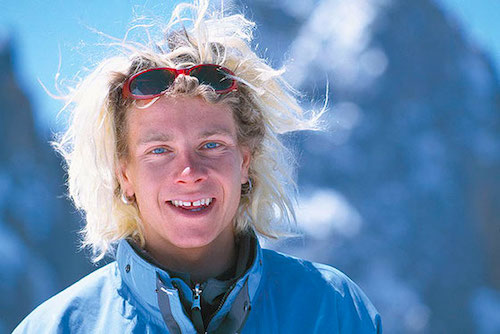 No, Marco Siffredi's body has not been found, and his trail vanishes beyond the initial tracks that marked his descent from the summit. The absence of tangible clues leaves room for speculation about the circumstances surrounding his disappearance. 
One speculation involves the possibility that he traversed the upper part of the North Face before entering the couloir, where an avalanche might have swept him away and buried him at its base. Alternatively, it is theorized that he might have lost his foothold, plummeting into the extensive bergschrund – a crevasse-like feature – situated at the foot of the face. 
Amidst these hypotheses, and possibly the strangest is that Marco's sister Shooty, still believes that Marco is alive somewhere in Tibet. She envisions him living amongst yak herders, scaling uncharted peaks, and pioneering new descents, perpetually pursuing the elusive pinnacle of the ultimate descent.