Born on 19 December 1955, Lincoln Ross Hall was an experienced Australian mountain climber and explorer. In 1984, Lincoln was part of a group from Australia that went to the tallest mountain in the world, Mount Everest. They managed to successfully create a new climbing route on Everest. However he didn't reach the summit during the expedition.
He successfully reached the summit of Everest in 2006 on his second try. However, it was a miracle as he survived a night at 8,700 meters (28,543 feet) after being left for dead in the coveted Rainbow Valley.
Lincoln Hall wrote seven books, helped start a group called the Australian Himalayan Foundation, and talked to people all over the world about his climbing adventures. In 1987, Lincoln Hall received a special medal from Australia for his mountain climbing work. Then, in 2010, he got another award from the Australian Geographic Society for a lifetime of adventurous activities.
Lincoln Ross Hall suffered from mesothelioma and passed away when he was 56 years old on March 20, 2012. 
Early Life of Lincoln Hall
Hall was born in Canberra, Australia. He attended Telopea Park High School, studied Zoology at Australian National University, and learned how to climb in the Australian Capital Territory. One special place he climbed was Booroomba Rocks, where he made new routes up the rocks. He also excelled at climbing on ice in the Snowy Mountains at Blue Lake.
Hall's Journey to Himalayan Peaks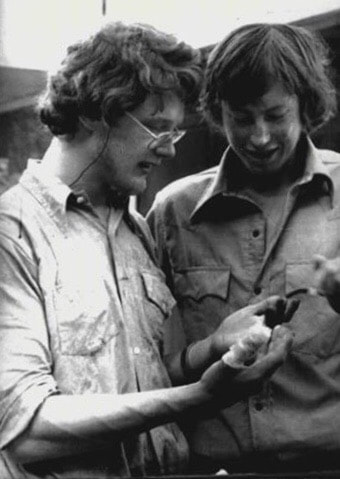 Hall's love for mountain climbing started when he joined the Australian National University Mountaineering Club during their trips to New Zealand between 1975 and 1978. This led to a major climb in 1978 to the Himalayan peak Dunagiri (7,066 meters) in India.
Hall and partner Tim Macartney-Snape were asked by leader Peter Cocker to join him at Col Camp so they could find a way to the top ridge. After a night on the mountain, they managed to make a path and pushed for the summit. Hall played a crucial role in Tim Macartney-Snape's successful climb to the top.
Afterward, during an electrical storm, Hall got stuck on the mountain resulting in him having to spend another night outside. Cocker climbed up in the night and met Hall at the fixed ropes, guiding him back to Col Camp.
The ANUMC team quickly brought Hall down to Base Camp, and he was taken by helicopter to a Military Hospital near Delhi.
Global Climbing Adventures: Hall's Triumphs and Achievements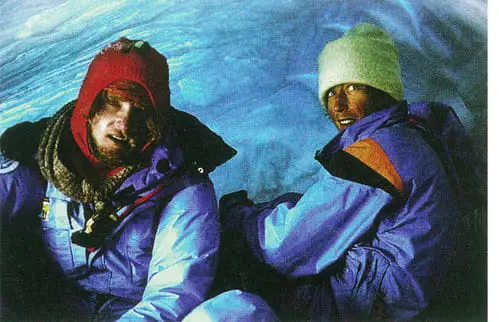 The ANUMC's successful trip to Dunagiri created the partnership between Hall and Macartney-Snape. This partnership became important for their mountain climbing careers, including their 1984 expedition to Mount Everest.
After Dunagiri, Hall took part in and led many climbing adventures all over the world. He and other Australian climbers were the first to reach the tops of certain mountains. Some of these adventures included two trips to climb Mount Everest in Nepal (the first Australian climb in 1984), the first time anyone climbed Mount Minto in Antarctica (1998), and reaching the summits of other famous mountains like Annapurna II in Nepal (7963m), Makalu on the China-Nepal border (8481m), and Carstensz Pyramid in Irian Jaya, Indonesia.
A Miraculous Survival: Lincoln Hall's Everest Rescue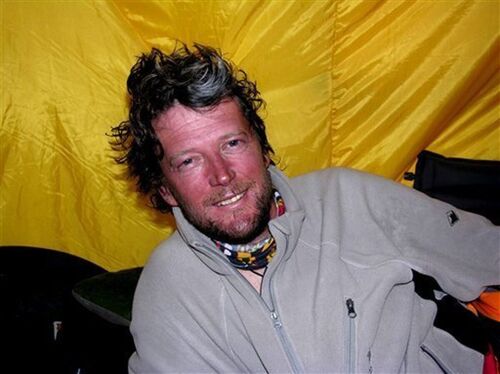 In 2006, after Lincoln Hall climbed Mount Everest, he had a very close call. While coming down from the summit on May 25th, he got sick at 8,700 meters. He had high altitude sickness, likely cerebral edema, which made him see things and he became confused. The Sherpa guides tried to help him for many hours. But when it started getting dark, they had less oxygen and couldn't see well because of the snow. The leader of the group, Alexander Abramov, decided to leave Hall on the mountain because they thought he had died. They went back to their camp and told everyone that Hall had passed away including his family back home.
But the next morning, after 12 hours, another group of climbers going to the summit found Hall still alive. This group was led by Daniel Mazur from the U.S., and it also had Andrew Brash from Canada, Myles Osborne from the UK, and Jangbu Sherpa from Nepal. They found him just below a place called the Second Step:
"Sitting to our left, about two feet from a 10,000 foot drop, was a man. Not dead, not sleeping, but sitting cross legged, in the process of changing his shirt. He had his down suit unzipped to the waist, his arms out of the sleeves, was wearing no hat, no gloves, no sunglasses, had no oxygen mask, regulator, ice axe, oxygen, no sleeping bag, no mattress, no food nor water bottle. 'I imagine you're surprised to see me here', he said. Now, this was a moment of total disbelief to us all. Here was a gentleman, apparently lucid, who had spent the night without oxygen at 8,600 m, without proper equipment and barely clothed. And ALIVE."

– Myles Osborne
Lincoln Hall's Survival and Treatment on Everest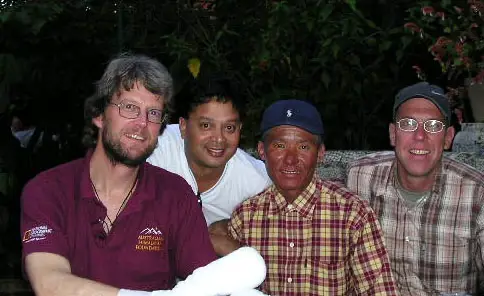 Mountain observers said that a rescue effort was of an unusually large scale. Mazur and his team decided not to summit Everest so they could help Hall, who was very cold and confused due to serious brain swelling. At the same time, Abramov sent a team of 12 Sherpa guides from the base camp to rescue them. This team included Sherpas: Ongshu, Nima Wangde, Passang, Furba Rushakj, Dawa Tenzing, Dorjee, Mingma, Mingma Dorjee, Pemba, Pemba Nuru, Passang Gaylgen, and Lakcha.
They brought Hall down the mountain as he walked the last part of the way to Everest's North Col. A Russian doctor Andrey Selivanov helped him. The next day, Hall reached Advanced Base Camp, with his fingers and a toe suffered from frostbite.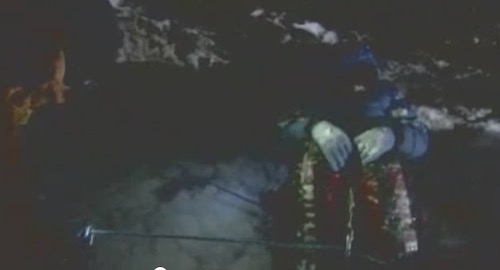 Soon after David Sharp, a climber from the UK, died on the mountain, Hall's survival and rescue mission happened. No one tried to save Sharp; he was not awake but still alive. Other climbers saw him, but they went on climbing without helping him. 
Unlike David Sharp, Hall was awake and could walk. These were two important things that made his rescue possible. This situation made people worried, including Sir Edmund Hillary. Dan Mazur, the leader of the rescue team, said they didn't need to reach the summit because they could try again another time. But Lincoln Hall had only one life, so they had to help him.
Lincoln Hall: From Everest Survival to Documentaries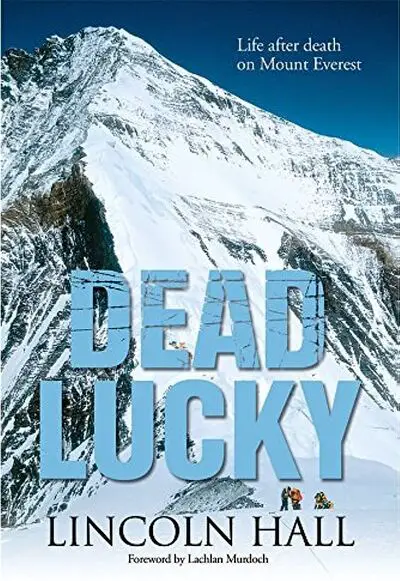 Myles Osborne, a friend of Hall, decided not to summit Everest so he could help Hall. Osborne says Hall was a friendly person who liked to tell not-so-good jokes. In 2006, a Dateline NBC aired a documentary named "Left for Dead on Mount Everest."
Hall wrote two books about what happened to him on that fateful day. One was called "Dead Lucky: Life after death on Mount Everest" (affiliate link!) and the other was "Alive In The Death Zone: Mount Everest Survival." 
Another documentary, "Miracle on Everest," was made based on Hall's book "Dead Lucky." It first aired in 2008 on National Geographic Channel in the USA, and also on ABC1 in Australia.
Hall's story was told in the TV show "I Shouldn't Be Alive." One of the episodes was called "Left for Dead on Everest," and it came out on February 16, 2011.
Death of Lincoln Hall
On March 20, 2012, Hall passed away at Royal Prince Alfred Hospital in Sydney. He had a sickness called mesothelioma. His friend and fellow mountain climber Greg Mortimer was with him when he died. Mortimer said it was very calm at the end. Hall's breathing became slow and peaceful, almost like meditation, and then he quietly left.