On average it takes two months to climb Mount Everest. The climb includes a one month round trip trek to and from Everest Base Camp. Once at the base camp, climbers embark on a one month plus ascent to reach the peak of Mt. Everest.
Reaching the summit of Mount Everest is a time-consuming process that is highly variable. Primarily due to the necessity of acclimatization and the need to wait for favorable weather conditions. Therefore, successful Everest expeditions necessitate patience and careful planning. Allowing climbers to acclimate properly and wait for suitable weather windows to increase their chances of a safe and successful summit attempt.
How Many Days Does it Take to Climb Mt. Everest?
It takes roughly 60 days to climb Mt. Everest. This includes about a 20 day round trip trek to and from Everest Base Camp. From base camp, it takes climbers another 40 days to reach the summit of Everest. 
However, the number of days it takes to climb Everest can vary depending on several factors, including the climber's experience, the route chosen, weather conditions, acclimatization schedule, and the overall logistics of the expedition. 
Typically, a full climb from the base camp to the summit and back can take around 60 days. Here's a rough breakdown of the timeline:
1. Trek to Base Camp: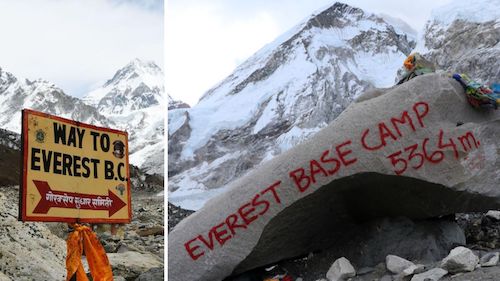 Takes around 7-10 days to trek to the Everest Base Camp, which serves as the starting point for most expeditions.
2. Acclimatization:
Climbers spend several weeks at the Base Camp and various higher camps to acclimatize to the high altitude and thin air. This helps reduce the risk of high altitude sickness and improves chances of summit success.
3. Climbing Period:
The actual climbing period can last between 4 to 6 weeks. Climbers typically establish higher camps (Camp 1, Camp 2, etc.) on the mountain and make multiple rotations, ascending and descending to higher altitudes to acclimatize further and establish supply caches.
4. Summit Push:
When the weather and conditions are favorable, climbers make their final ascent to the summit. This push from the Base Camp to the summit and back can take around 4 to 5 days, but the time spent on the summit is usually only a few minutes due to the harsh conditions.
5. Descent:
After reaching the summit, climbers must safely descend back to lower camps, which can take a few days.
Overall, the expedition can last anywhere from 60 to 75 days or even longer depending on the specific situation. It's important to note that climbing Everest is a challenging and dangerous endeavor, and there are multiple factors that will affect the amount of time needed to summit Everest.
Why Does It Take So Long To Climb Everest?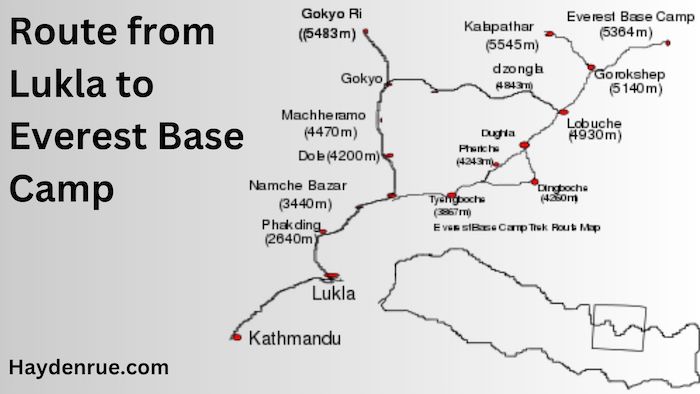 The journey to conquer Mount Everest is a difficult one, characterized by three primary factors that contribute to its time-consuming nature: the trek, the acclimatization process, and the unpredictable weather conditions.
1. Trekking to Base Camp from Lukla
Expeditions typically commence with a trek to the Everest Base Camp, a gateway to the daunting ascent. While an alternative involves a helicopter ride from Lukla to Base Camp, it remains weather-dependent and comes at a considerable expense. In the absence of this option, climbers undertake a 7 to 10-day trek, incorporating essential periods of rest and acclimatization to adapt to the increasing altitude.
Of course, getting to Base Camp is just half the battle. Next you have to actually climb the mountain, and then make your descent. Finally, you have to trek back to Lukla in order to return to Kathmandu. Therefore, the roundtrip from Lukla to Everest Base Camp, takes around 20 days by itself.
2. Acclimatizing to the Altitude
The next reason why it takes so long to make it to the summit is acclimatization. Standing as a pivotal phase of the expedition, acclimatization occurs at the Base Camp and during subsequent ascents to camps 1, 2, and 3. Acclimatizing helps mountaineers avoid high altitude sickness, which can put their lives in danger.
This preparatory step is essential for the wellbeing of climbers as they must ensure their bodies can tolerate the extreme altitudes. Gradual progression, with climbers ascending to Camp 1 and evaluating their response to the elevation. If deemed suitable, they proceed to Camp 2, adopting the same method of evaluation. This cautious approach continues until climbers can ascend to Camp 3 without adverse effects. Subsequently, a return to Base Camp facilitates resupplying and rest before embarking on a second ascent to Camp 3, spanning a day or two, to prepare for the final, summit push.
3. Dangerous Weather Conditions
Weather conditions on Everest wield decisive influence over the entire expedition. The mountain's treacherous environment endows climbers with only a brief window of safety from the lethal winds and extreme cold. This narrow weather window may last for as little as one or two days in an entire year. Harsh conditions can destroy camps, sweep away equipment, alter the paths through the treacherous Khumbu Icefall, and result in death. As was the case during the 1996 Everest disaster where eight climbers died.
Consequently, climbers remain at the mercy of the unpredictable mountain, with their journey dictated entirely by its whims. Meaning that their summit push may take much longer than first anticipated.
What an Everest Climbing Itinerary Can Look Like:
To see the breakdown of days, and length it will take to climb Mt. Everest, you can see a typical itinerary below. A typical Mount Everest Summit Itinerary includes the following:
| Day | Activity | Elevation |
| --- | --- | --- |
| Day 1:  | Arrival at Kathmandu | |
| Day 2: | Fly from Kathmandu to Lukla and trek to Phakding | (2640m) |
| Day 3 | Trek from Phakding to Namche Bazaar for 6 hours | (3446 meters) |
| Day 4 | Acclimatization day and rest at Namche Bazaar. | |
| Day 5 | Trek from Namche Bazaar to Tengboche | (3800m) |
| Day 6 | Trek from Tengboche to Pheriche | (4243m) |
| Day 7 | Trek to Lobuche from Pheriche | (4930m) |
| Day 8 | Trek from Lobuche Everest Base Camp (5360m) | |
| Day 9-57: | Climbing Period to reach Mt. Everest (8848 m) | Camp 1: 6400m, Camp 2: 6750m, Camp 3: 7100m, Camp 4: 8400m |
| Day 58: | Return from EBC and trek to Pheriche | |
| Day 59:  | 6-7 hours trek from Pheriche to Namche Bazaar | |
| Day 60: | Trek from Namche Bazaar to Lukla | |
| Day 61: | Fly from Lukla to Kathmandu | |
Timeline and number of days needed to climb Everest
It is important to note that the climbing itinerary and number of days associated with climbing Everest listed above, is a best case scenario. It ultimately depends on the factors listed in the 'why does it take so long to climb Everest' section above.
Time Frame for Climbing Different Parts of Everest: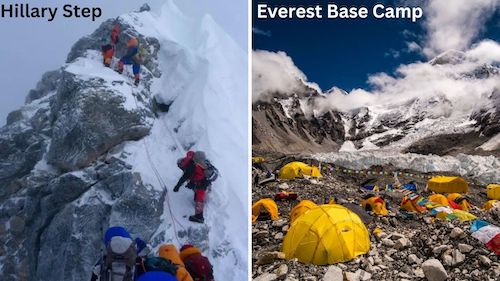 Considering the well known areas of Everest, such as EBC, the balcony, Hillary step and other locations, we have included the length of time as well as distance (when possible) for each segment.
1. How Long Does It Take To Get To The Base Camp Of Mount Everest?
It takes approximately 7-10 days to trek to the Base Camp of Mount Everest. The trek starts from Lukla, Nepal, and covers a distance of around 65 kilometers (40 miles) with gradual ascents and descents, passing through picturesque Sherpa villages and challenging terrains.
2. How Far Is Everest's Base Camp To The Summit?
The distance from Base Camp to summit is around 20.5 km (12.73811 miles), excluding the additional short hikes undertaken by trekkers for acclimatization purposes.
Additionally, the Base Camp, located just below the peak, lies approximately 130 km away from Lukla. Which potential summiters must trek to reach the elusive mountain. All in all, climbers have to trek over 150 km (93.2057 miles) to reach the summit!
Therefore, a round trip to the world's tallest peak will be about 300 km (186 miles).
3. How Long Does It Take To Descend Mount Everest?
The descent from the summit of Everest to Base Camp 4 takes around 4 to 8 hours. However, descending from the summit to Base Camp 1 can take several days to a week. While the descent can be faster, climbers must exercise extra caution due to the inherent risks involved.
The amount of time it takes to descend from the summit is crucial, as more climbers succumb to death on Mount Everest while descending from the summit. This is due to the amount of energy exhausted during the ascent, as well as the issue of extra oxygen depletion. Many of the most famous dead bodies on Everest actually died during their descent, in areas known as Rainbow Valley or Everest's death zone.
4. How Long Does It Take To Get To The Balcony of Everest?
It takes around 6 to 8 weeks to reach Everest's Balcony from Lukla – the start of the Everest climb. Once on the mountain, it takes approximately 10 to 12 hours for experienced climbers to reach the Balcony of Everest from the Everest Base Camp.
The Balcony is a sheltered location on the Southeast Ridge, situated at an altitude of around 8,400 meters (27,559 feet). The ascent to the Balcony involves traversing challenging terrain and requires climbers to carefully manage their energy and acclimatization. It serves as a critical resting point and transition area for climbers on their way to the summit, providing a brief respite before the final push towards the top of the world's highest mountain.
5. How Long Does It Take To Complete The Hillary Step?
The ascent from the South Summit to the Hillary Step takes about two hours. Climbing the steep cliff itself requires an additional one to two hours, followed by a final 20-minute push from the top of the Hillary Step to reach the summit of Mount Everest.
Notably, only one climber can traverse this section at a time due to its narrow and challenging nature. As the number of climbers attempting to ascend Mount Everest increased, the Hillary Step often turned into a deadly bottleneck. Many climbers had to wait for their turn on the ropes, causing delays and impeding the flow of people up and down the mountain.
Prior to 2015, the descending sequence along Everest's southeast ridge started with reaching the summit of Everest. However, the congestion at the Hillary Step became a significant concern, leading to discussions about managing the flow of climbers more efficiently and safely.
What's The Fastest Someone Has Climbed Everest?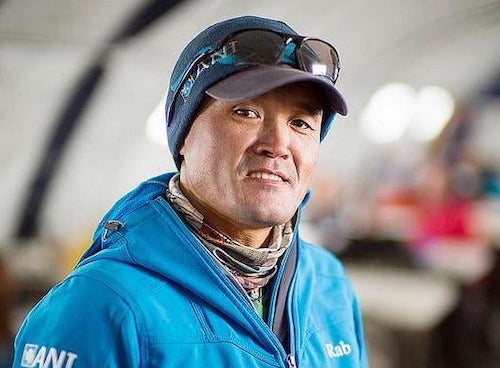 Lhakpa Gelu, holds an impressive world record for the fastest ascent of Mount Everest in an astounding time of 10 hours, 56 minutes, and 46 seconds, marking his tenth successful summit of the iconic mountain.
His record-breaking expedition commenced at 5:00 p.m. on May 25, 2003, as he embarked on the arduous ascent to the summit. Gelu reached the pinnacle of Everest at 3:56:46 a.m. on May 26, and to complete his extraordinary accomplishment, he safely returned to Base Camp by 11:20 a.m. the same day.
The total duration of Gelu's epic climb, from Base Camp to the summit and back, amounted to a mere 18 hours and 20 minutes. This remarkable achievement outshone the previous record of 12 hours and 45 minutes, which had been set just a few days earlier on May 23, 2003, by another talented Sherpa climber named Pemba Dorjie from Rolwaling Himal.
Can You Fly Or Take A Helicopter To Mount Everest Instead?
Think it takes too long to climb Everest and looking to save some time during your summit push? Well, you are in luck. Helicopters can fly to different parts of the mountain – although it is extremely dangerous. It may be surprising, but one helicopter even landed on the summit of Everest in 2005.
The sections below provide more information on the capabilities of helicopters on the mountain.
1. Is it Possible to Take a Helicopter to Mount Everest?
While it is feasible to arrange a helicopter tour to reach the base camp of Mount Everest, reaching the summit via helicopter is not possible. The lack of suitable landing spots and the extreme danger associated with flying at high altitudes, especially in the death zone above 8,000 meters, make such attempts highly risky.
The thinning oxygen levels at higher altitudes pose significant challenges for helicopters to generate sufficient lift and maintain control. As for planes, the closest airport is located in the town of Lukla – which is the starting point for the Everest trek.
2. Has a helicopter landed on the summit of Everest?
In 2005, Didier Delsalle, a seasoned fighter pilot for the French Air Force and a test pilot for new helicopter models, achieved the remarkable feat of landing an Airbus AS350 Squirrel on the summit of Everest.
Being one of the craziest Mount Everest facts, Didier successfully made the ascent under favorable weather conditions, and the next day, despite more challenging weather, he repeated the landing to dispel any notion of the first attempt being a mere fluke. Since then, no one else has attempted such a daring maneuver.
3. Highest Helicopter Rescue on Everest:
In May 2019, an extraordinary rescue operation took place on Mount Everest when a climber suffered injuries above 8,500 meters. With the assistance of Sherpa Pasang Tenzing, the injured climber was safely brought down to Camp 4. The following day, using ropes, the helicopter pilot, Maurizio Folini, carried out the highest helicopter rescue on Everest by using a long-line from an altitude of 7,800 meters. It is worth noting that permits for helicopter operations are not granted for altitudes above 7,000 meters, making this rescue remarkable but relatively unknown to the public.
4. Controversial Helicopter Flight to Everest's Camp 2
In 2014, climber Wang Jing attracted controversy when she utilized a helicopter to transport herself and her team, along with supplies, directly to Camp 2 on Mount Everest. The decision was made in the aftermath of a tragic avalanche that claimed the lives of 16 Sherpas, leading other Sherpas and paid clients to decide against climbing that year as a mark of respect.
Additionally, the Khumbu Icefall was deemed impassable due to its hazardous conditions. While Wang Jing's use of the helicopter bypassed these dangers, it sparked debates over whether it was an acceptable practice, although it did ensure the safety of Sherpas on Mount Everest. Wang Jing's ascent was part of her ambitious goal to complete the "Seven Summits" challenge, conquering the highest peak on each of the seven continents within an impressive 142-day timeframe.
5. Helicopter Flights on Everest – Gear Transport:
The treacherous Khumbu Icefall on Mount Everest poses significant dangers for the Sherpa community, who often transport gear and supplies between Base Camp and Camps 1 and 2. In response to this perilous situation and to mitigate risks for the Sherpas, Nepal and guiding companies have started using helicopters to transport gear directly to the camps.
While this move has generated some controversy, as it could lead to climbers bypassing one of the most hazardous sections of the Everest climb, its potential benefits for the Sherpa community are undeniable. Nonetheless, the acceptance and broader implications of such practices remain topics of discussion within the mountaineering community.
Why Do People Climb Mount Everest even when it takes so long?
The answer to this is summed up perfectly by George Mallory, "Because it's there."
Mount Everest's towering presence as the highest point on Earth has fascinated people for generations, and the idea of standing atop the world and conquering such an iconic and formidable peak is an irresistible allure for many climbers.
Even when tasked with a two month climb, climbers still don't care. The mountain calls them, just like the countless other mountaineers who have summited Everest. It's a life-changing experience that instills a sense of pride and accomplishment that few other adventures can match. Overcoming Everest's obstacles becomes a way to confront fears and uncertainties, resulting in an incredible sense of triumph over adversity.
Beyond the personal aspect, there can be spiritual or cultural significance to climbing Everest. Everest's historical legacy as a symbol of human achievement and exploration also attracts climbers seeking recognition and a chance to add their names to the list of those who have reached the summit. Despite taking over 60 days to complete, hundreds of climbers every year make the grueling climb from Lukla, to the highest point in the world.
FAQs: How long does it take to climb Mount Everest?
Below are some of the most frequently asked questions regarding how much time it takes to summit Everest.
1. Why does it take 2 months to climb Everest?
The main reason it take so long to climb Everest is the need to acclimatize. Acclimatization, the process of adapting to high altitude and low oxygen environments, requires climbers to make multiple treks up and down the mountain, increasing the time spent on Everest.
2. How long can you stay at the top of Mount Everest?
Most climbers spend only a few minutes on the top of Everest. This is because of overcrowding as well as safety, as the climbers still need to return back to Camp IV before their oxygen runs out and night falls.
3. Why does it take 40 days to climb Everest?
Climbers take 40 days to climb Everest due to the need for acclimatization. This process allows them to adapt to the high altitude and low oxygen conditions, reducing the risk of altitude sickness and increasing the chances of a successful summit. Additionally, factors like weather conditions and the need for rest and recovery contribute to the overall duration of the expedition.